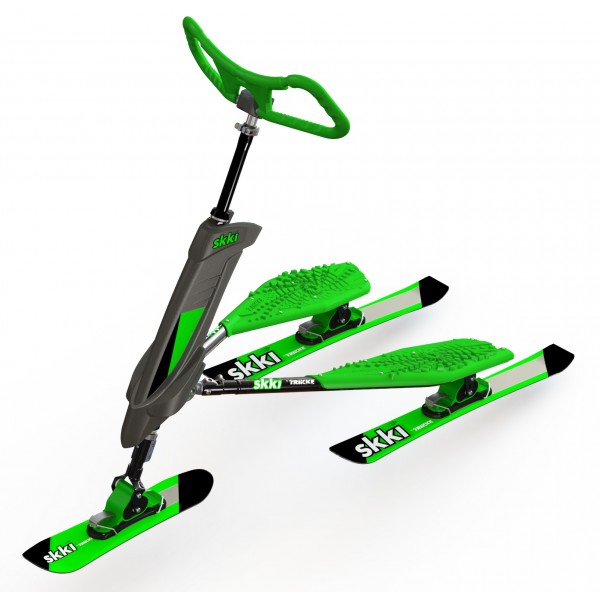 Ergonomic handlebar through which we control the edge of the skis.
Comfortable platforms for a secure footing in comfortable winter shoes.
Durable skis with a vibration damping binding system
SKKI Trikke model green/black - #GreenPower
Be unique, stand out of the crowd! Safety and fun, skiing you can practice in comfortable and cozy boots during winter time.
Each order is delivered by DHL express. For other available shipping options contact us at info@trikke.pl
 All orders are subject to a 1 business day processing time!
For returns and exchanges please email us at info@trikke.pl
Quick learning, No leg pain, No injuries
Trikke Skki is a new challenge you can experience during winter. Everyone will find their way around on the snow effortlessly. This extraordinary ski equipment combines skis and safety. You need no riding lessons to fully enjoy your experience. Skiing with Skki Trikke is a piece of cake. Three skis and a frame keep you safe. There are no ski bindings to your feet, you can have fun while wearing regular and comfortable winter boots.
After an hour's drive, you are in control of this ski equipment. Most importantly, you won't get injured at Skki Trikke. And even when you have a ski injury, this is the only equipment for you!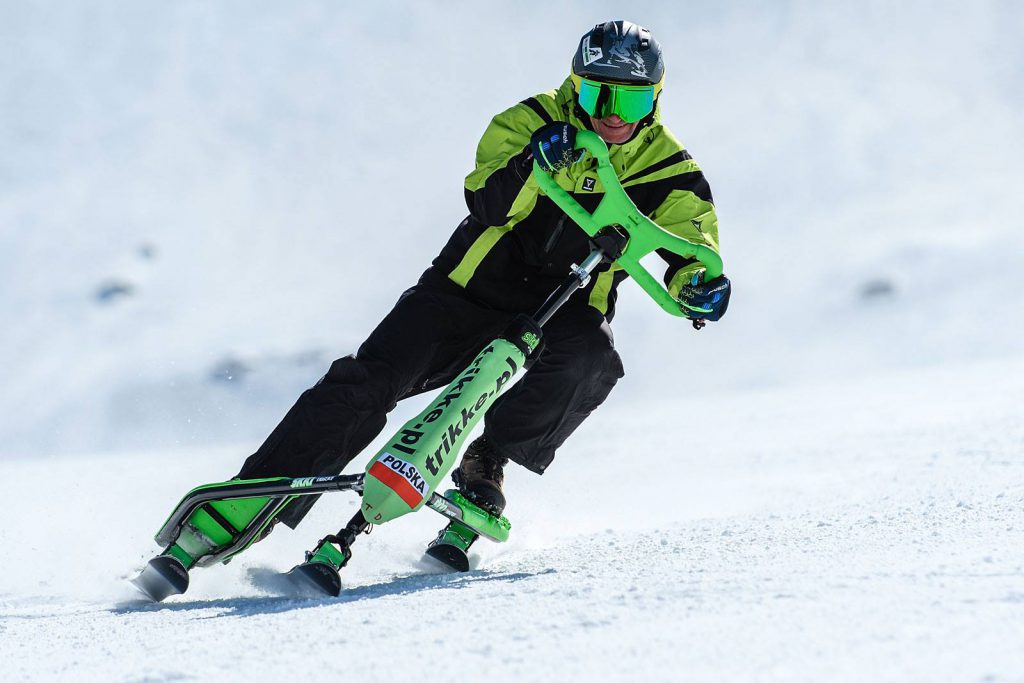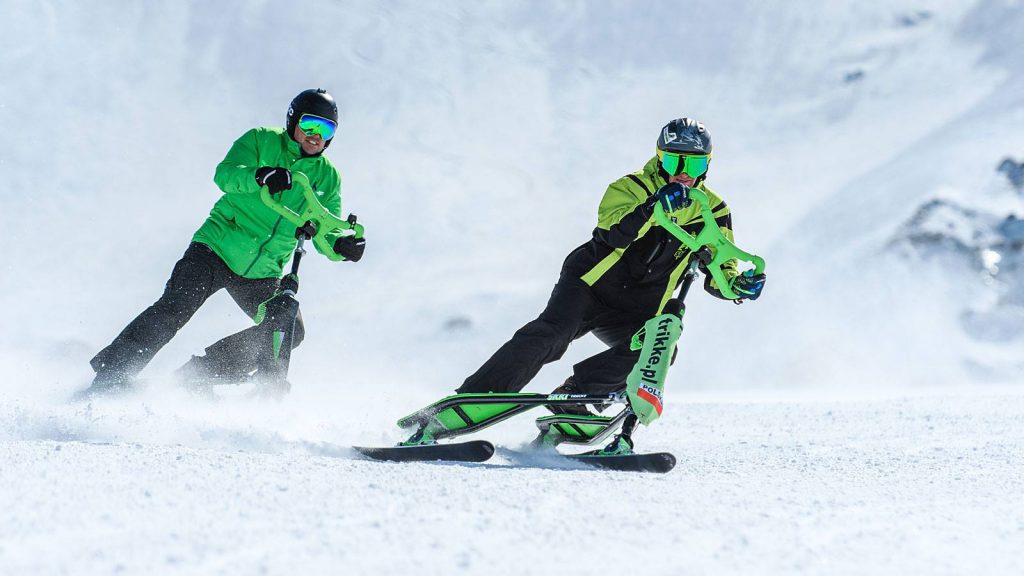 Skki Trikke is easy to drive, it's amazing fun and safe
EASY… it takes 15 minutes to learn to ride. The 3-point snow contact ensures easy and safe driving. The handlebars hold the edge and give you full driving control. Carving and turns are easy and safe
INTELLIGENT …… SAFE…… In the winter Skki Trikke you do not need any special shoes that restrict movement. Without ski bindings, you are safe and you will not be injured in any way. Riding Skki Trikke feels natural and doesn't create a pressure on your knees. You can easily fold it for transport after the ride.
FUN…. Riding a winter Skki Trikke is really exciting. You feel like a pro schussing down the piste and having more fun than everyone else around you. One size Trikke perfectly fits you, your family and friends.
Skki Trikke does not put any pressure on the knees. Driving is fun and comfortable
While riding a snow Skki Trikke and turning it with holding the edge, there is NO KNEE ROTATION, unnatural movement for this joint in the leg. This abnormal knee rotation is a bane for duo-skiers and the cause of most ski injuries! Ski edge in the Skki Trikke is held with both hands. Force created in legs goes along with the bones and soft boots to the platform where presses ski base against the snow. 
Ski edge conrol is maintained by many body parts such as hands, forearms muscles, biceps, triceps, shoulders girdle and trapezoidal muscles at the spine by absolute control over the ski angle.
Easy, safe and fun driving.